Welcome to the Elite Program
Mission Statement:
"To provide horsemen an opportunity for professional and personal growth, by increasing their understanding of the horse with which they work and enhancing their professional skills."
Questions or to receive more information about Groom Elite classes, EMAIL US HERE.
September 20 update
October 16-20 - Basic Horse Handling & Care 099 (Basic Grooming 099) at Magdalena Farms, Lexington, KY
Want to work with horses? This workforce preparation class will provide the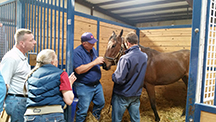 basic horse handling and care knowledge and skills you will need to work safetly around equine athletes. Learn tterminology and skills required for entry level worker positon in the equine industry, with specific emphasis on racehorses. Participants that complete this course and pass evaluations on Friday are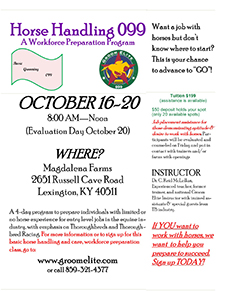 virtually assured of being offered a job. This is also a good class for individual horse owners and those wishing to become horse owners, particularly owners working with retired racehorses.
CLICK HERE FOR MORE DETAILS AND TO REGISTER for Basic Horse Handling and Care 099
September 30 - Oct 2 - Trainers Exam Prep Class at Santa Anita.
immediately following Owner Groom Elite Session II. Tuition $299 if registered by September 29 (Class size limited to 10)
Click here for more information and to register for thisTrainers' Exam Prep Class at Santa Anita..
Sep 25-29 - Owner Groom Elite II, Santa Anita, Arcadia. CA
Two late cancellations leave 2 open seats in this class for anyone interested
Click here for more information and to register for this class.

Sep 19-22 - Second Chances Groom Elite at James River Work Center. Two more graduates from SCGE program. Congratulations to Harrison "Frank" Myers, selected as Teaching Assistant. New class of 4 started on 20th with two more to join.
For General Information about Trainers' Exam Prep Classes, CLICK HERE

You can help us improve lives of humans and horses!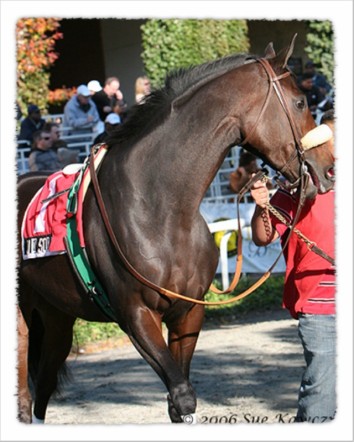 The Elite Program suports efforts to improve the welfare and safety of all horses with emphasis on racehorses, active and retired. Training a groom to recognize early warning signs of colic or subtle indications of an impending injury provides a direct benefit to those horses by enabling treatment that prevents more serious and even life threatening illness or injury.

CLICK HERE to donate now.

All horses, especially racehorses, are at risk of injury and health problems. In addition to the pressures of daily confinement, racehorses' legs are subjected to the pounding of speed work and their general health is challenged by exposure to large numbers of horses from many different locations.
Read More